Trung + Ly Wedding Day | Rex Hotel Saigon, Vietnam
Posted on8 August, 2020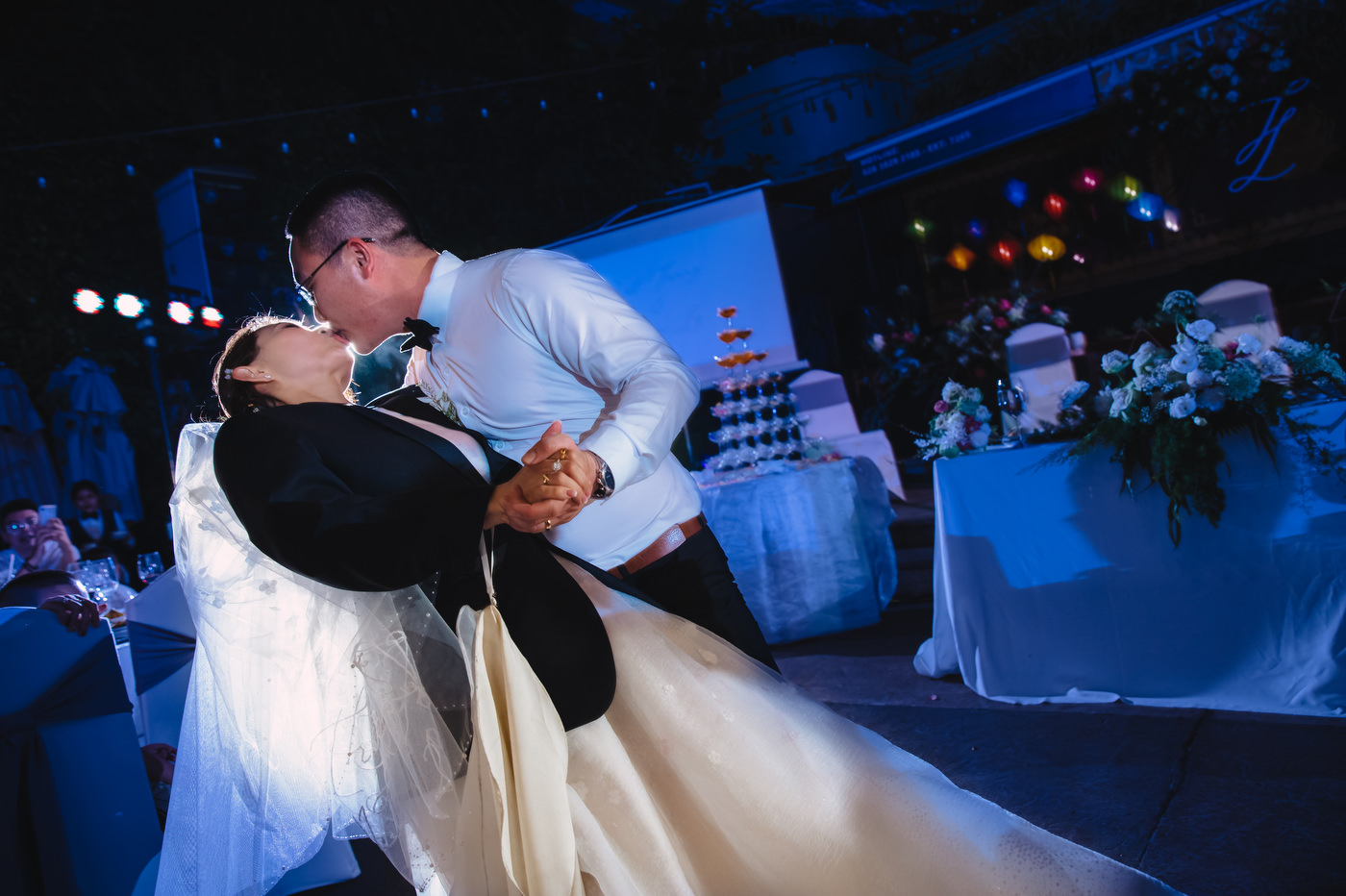 (Tiếng Việt ở dưới)
Ly & Trung | Everything is possible
"If you hadn't met your wife, what would you be doing now?"
"Trung must have been… a monk", Trung's brother told us when we're curious to know which magic made Trung & Ly stick together.
After suffering a big family incident, Trung became more reserved & started to dive in Buddhism more and more, to the point that his close family members thought for sure that he was ready to become a monk. Unexpectedly, Ly came into his life and since then, his world has been filled with happiness & smile again, and they started to grow as individuals and as a couple. Like, they were born to be with each other.
Looking at their broad smiles when they're together , it is hard to think what if Ly didn't come and join his life, right?
When looking at the one I love, sometimes I ask myself, "How the heck did I live before I met her?" I don't know, but I guess destiny always find its own way make it out, then puts everything into place.
Wedding Dress by Cee's Bridal
Wedding Planning & Decorations by Orange Blossom Wedding
Make Up Artist Bi Nguyen (I'BI)
Venue & Catering by Rex Hotel, Saigon
——–
Nếu không gặp người yêu của bạn, bây giờ bạn đang như thế nào?
"Nếu không gặp Lý, nhiều khi bây giờ Trung cạo đầu đi tu rồi" – anh ruột của Trung đã chia sẻ như vậy khi nhắc về cơ duyên gặp nhau của hai bạn. Chuyện là sau một biến cố lớn, Trung lặng lẽ hơn và khép kín hơn, tìm hiểu nhiều hơn về Phật Pháp. Bỗng dưng từ khi gặp Lý thì người nhà mới thấy bạn ấy vui vẻ, hát hò trở lại. Cuộc đời hai bạn, có lẽ đã thay đổi theo một hướng khác hoàn toàn kể từ khi gặp nhau.
Nhìn nụ cười rạng rỡ hết cỡ của Trung và Lý khi ở bên nhau như thế này, chắc khó ai nghĩ đến được hình ảnh lúc trước khi gặp nhau của hai bạn, nhỉ?
Thật kì lạ, đôi khi quay qua nhìn lại người mình yêu, người bạn đời của mình, chúng ta tự hỏi "Mình đã sống thế quái nào trước khi gặp anh ấy/cô ấy thế nhỉ?"
Wedding Dress by Cee's Bridal
Wedding Planning & Decorations by Orange Blossom Wedding
Make Up Artist Bi Nguyen (I'BI)
Venue & Catering by Rex Hotel, Saigon
–
𝗔𝗠𝗕𝗜𝗘𝗡𝗧 𝗪𝗘𝗗𝗗𝗜𝗡𝗚 𝗣𝗛𝗢𝗧𝗢𝗚𝗥𝗔𝗣𝗛𝗬
𝘙𝘦𝘢𝘭 𝘗𝘦𝘰𝘱𝘭𝘦 • 𝘙𝘦𝘢𝘭 𝘔𝘰𝘮𝘦𝘯𝘵𝘴 • 𝘙𝘦𝘢𝘭 𝘓𝘰𝘷𝘦