Phat + Giang Intimate Prewedding | Saigon, Vietnam
Posted on 15 August, 2019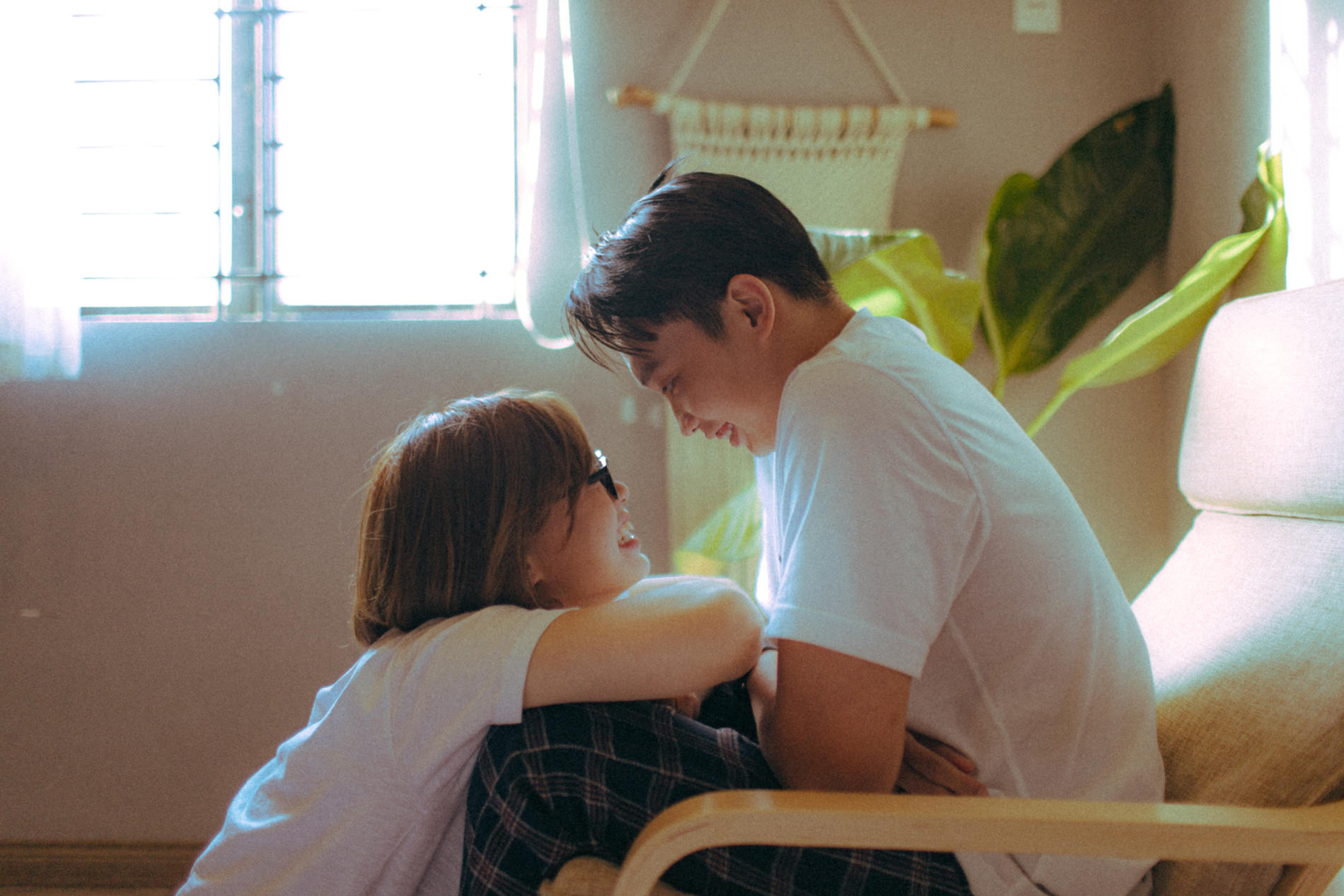 "So darling, as of tomorrow, you are no longer my boyfriend"
These photos, is kinda like the end of Phat and Giang's boyfriend and girlfriend relationship – in some ways, since a couple months later, they officially became husband and wife
When we met at my studio, both of them seemed to be very quiet. Now, as for my personal working style, I often ask the couples lots of questions before shooting for them to get a better understanding about their story. Who they are? What kind of relationship goals they are into? Or what can I feel about their "chemical" for each other?
P & G gradually share more about them to me. But still, my impressions about them wasn't exactly about loudsy, overly-expressed lovey dovey couple. Their "chemical" is something much more calm, and I could feel like they are really keen on nuturing that kind of touch between them.
"My dearest friend, if you don't mind, I'd like to join you by your side. Where we could gaze into the stars, and sit together, now and forever. For it is plain as anyone can see, we're simply meant to be. So darling, as of tomorrow, you are no longer my boyfriend" – She wrote for him before there marriage.
As for P, he wrote something that I find deeply and throughoutly described their relationships:
"I love her – and it's like brushing your teeth.
You don't have to tell anyone else about that, do you?"
Never judge people based on how they talk about themselves. Especially people who are in love.
I did a subtle intimate prewedding session for them, just to remember P's "teeth brushing" story.
Congrats and thanks P + G!
————————————
"Anh, từ ngày mai, anh sẽ không còn là bạn trai của em nữa"
Ở một cách nào đấy, thì bộ hình này mình chụp cho Phát và Giang đã góp phần kết thúc mối quan hệ "bạn trai" – "bạn gái" của hai bạn. Vài tháng sau khi chụp thì hai bạn trở thành vợ chồng.
Nhớ lại lúc gặp hai bạn ở Ambient studio, cả hai bạn đều khá im lặng. Trước khi chụp hình cho một ai đấy, mình thường hỏi khá nhiều về hai bạn ấy và về mối quan hệ của họ, để có cái nhìn rõ hơn cho buổi chụp. Từ những câu như "hai bạn quen nhau lâu chưa", ai cũng hỏi, đến những câu khác thường hơn để hiểu cái "chemical" mà các bạn chia sẻ với nhau như một cặp đôi.
P & G cũng từ từ chia sẻ nhiều hơn với mình, tuy hai bạn cũng không phải kiểu người thích nói nhiều về mình lắm thì phải. Mặc dù vậy, có một thứ ngôn ngữ khác với ngôn ngữ nói mà mình "nhìn thấy" được trong lúc nói chuyện với hai bạn, làm mình cảm nhận được cái "chất" yêu nhau rất điềm tĩnh của P + G.
"Bạn thân nhất của em, nếu anh không ngại, em rất muốn ngồi cạnh bên anh. Ngồi ngắm sao hay gì cũng được, miễn là cùng nhau, bây giờ và mãi mãi. Bởi vì, như mọi người có thể thấy, anh với em đơn giản là tồn tại để dành cho nhau. Vậy nên, anh, từ ngày mai, anh sẽ không còn là bạn trai của em nữa"
Phát cũng viết một câu trên trang cá nhân của bạn ấy, mà mình thấy là đã diễn tả vô cùng súc tích, chính xác và sâu sắc mối quan hệ của hai bạn"
"Tôi yêu cô ấy – Việc này cũng như là đánh răng vậy.
Đánh răng thì đâu cần phải khoe ai, phải không?"
————
Ambient Wedding Photography
Real Human • Real Moments • Real Love
For more blogs check out: https://ambientwedding.com/blog/